Impactful Presentations
A lectern designed to fit your needs ensures your presentations make an impact. We have standard lecterns that are ready to deliver, or can customize the design with additional features. Your design style may be modern, traditional, elegant or sleek, but it's critical to have a lectern that can be adjustable, support a work surface, and incorporate multimedia displays like laptops or monitors for high-tech training. You may need power panels and keyboard trays. You name it, we can build it.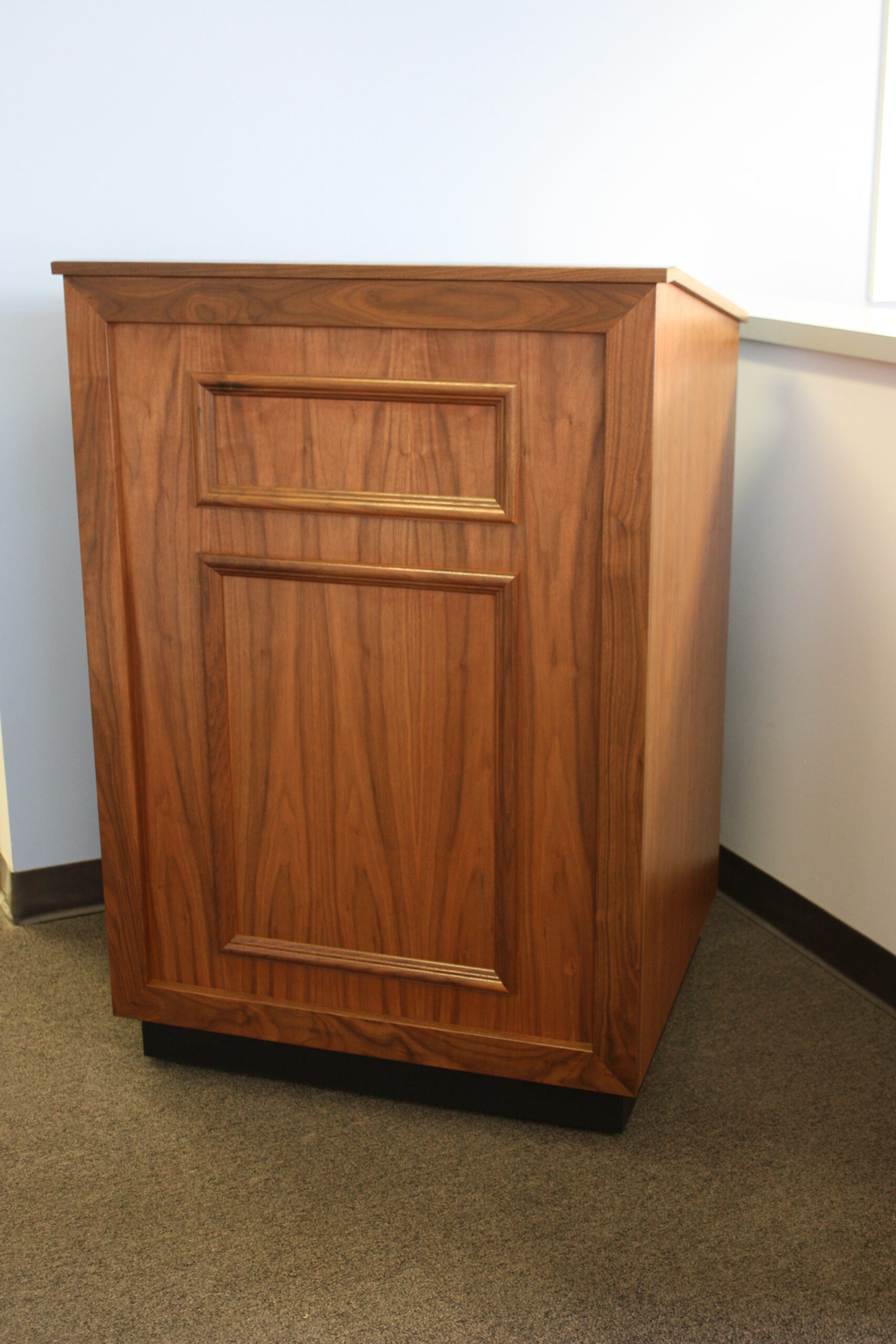 Standard Lecterns
Below you will find two of our standard lectern options. Standard options are available for purchase or they make great starting points for a custom design. Contact us today to find the perfect lectern for your space.
Classic 24″ Floor Lectern
Item Number: L224
MSRP: $2000.00
Description: A classic floor lectern (24″w x 24″d x 47″h) flat work surface (at 41″) with a black laminate top. Includes locking swivel casters, keyboard slide, two adjustable shelves, and grommets. The Classic Floor Lectern has black melamine interiors and work surface, standard laminate exteriors.
Standard Laminate Choices:
WilsonArt:
Kensington Maple #10776
Wild Cherry #7054
Fashion Gray #D381
Black #1595
Frosty White #1573
Options:
Lowell removable rack (LCR1418)
custom surface cut-ins
cabinet door
cabinet door with lock
removable rear panel with lock
flip-up shelf
push to open side shelf
angled work surface
document camera drawer
monitor well
angled control panel with cutouts
custom laminate upgrade
wood veneer upgrade
Item Number: ML3424
MSRP: $4,600.00
Description: A multimedia lectern (34″w x 24″d x 47″h) with a flat work surface (at 41″) black laminate top, locking swivel casters, keyboard slide, locking cabinet doors, one bay w/removable rack (LCR1418), one bay w/ adjustable shelf, ventilation fan, removable rear access panel w/lock, flip-up side shelf (finished w matching laminate), grommets, black melamine interiors, and standard laminate exteriors.
Standard Laminate Choices:
WilsonArt:
Kensington Maple #10776
Wild Cherry #7054
Fashion Gray #D381
Black #1595
Frosty White #1573
Options:
push to open side shelf
custom surface cut-ins
angled work surface with stop
document camera drawer
monitor well
angled control panel with cutouts
custom laminate upgrade
wood veneer upgrade